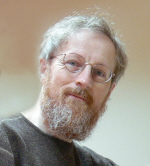 ....in my own view...
(....How difficult, indeed futile, to describe artistic ideas in words - beware composers who talk too much!... Matisse was right: "Whoever wishes to devote himself to painting should begin by cutting out his tongue".)
In all recent work there has been a constant development and re-working of certain harmonic and motivic obsessions. These form an intricately self-referential, almost iconic world, as for example in the paintings of Edvard Munch. Sound-surface and content have become increasingly 'one', though it is (as for my first teacher, Robin Holloway) an "eclectic unity". There is a warm embrace of the past, not an attempt to escape or supplant it. I has striven towards an accommodation between rich harmony, locally tonal, and a suppleness of rhythm, whilst retaining clarity and immediacy. Above all "character", personality, genuine and transparent ideas and "engagement" are central.
I have a feeling of increasing isolation from much of what happened in the later 20th century avante garde (which still frames the mindsets of so many promoters and broadcasters). I particularly dislike music which is primarily 'of process', rather than 'of moment'. Machines, super-complexity, mindnumbing repetition, empty experimentalism, and "static, expressionistic wallpaper'"hold no attraction. I have sought to forge a language which shuns fashionable hyperbole, gimmickery, smokescreens of complexity and shallowness, to which both music and the visual arts have increasingly succumbed - innovation, of course; 'adolescence' no.... I have no interest in "the new" for its own sake, of "pushing the boundaries", and of deifying "the cutting edge" - I despise this current orthodoxy.
Heroes remain Janacek, Mahler, Ravel, Sibelius, Rachmaninov, Debussy and Prokofiev, with affectionate places also for my first teacher Robin Holloway, Wilhelm Killmayer, Judith Weir and friends Ståle Kleiberg, Fabian Müller, Alissa Firsova and Marcus Paus (discoveries from a shared commission in Norway).